On December 10, Intaction held its first ever event for intactivists to celebrate foreskin advocacy. We call it IMAGINE because it takes imagination to make a dream a reality. The dream where babies can enter the world peacefully without the threat of genital cutting.
We recognize that change is happening. What seemed impossible before, is becoming a reality. Where Americans used to view genital cutting as beneficial and healthy, now they are starting to value being intact as natural, anatomically important, and desirable.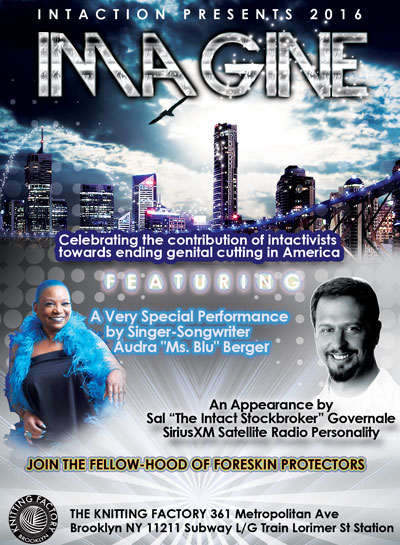 The celebration was an evening of fun, food, and entertainment, that took place at the  Knitting Factory in Williamsburg, Brooklyn, NYC. Some of the evenings highlights were:
A welcoming speech by Intaction Director Anthony Losquadro
An appearance by radio personality and comedian Sal "The Intact Stockbroker" from the Howard Stern Show.
A soulful performance by the intactivist singer Audra "Ms Blu" Berger.
The debut intactivist raunchy comedy act of Tony "The Alarm Guy"
Introduction of our Guest of Honor and pioneer intactivist Marilyn Milos.
Portions of the event were recorded for replay on the Howard Stern Show and in Kenny Neal Shults upcoming documentary "Pigs Without Blankets."
Over fifty people attended our event, some traveling as far as Philadelphia and San Francisco to join us.
Imagine 2016 became the subject of several discussions on the Howard Stern Show – Sirius XM 100, covering the issue of circumcision and genital cutting. Some of these on-air discussions were very lengthy and were repeated on replays and Sirius on-demand services.
The Intaction Board of Directors want to thank our guests, our talented performers, and our guest of honor for making it a very special night that culminated a year of achievements.