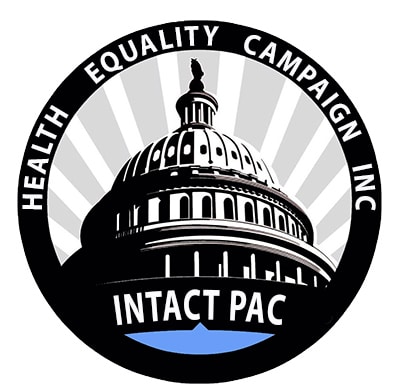 HEALTH EQUALITY CAMPAIGN
NORTH CAROLINA MEDICAID ACTION PAGE

North Carolina Medicaid Proposes To Enrich Hospitals With Profits From
Routine Infant Circumcision
After more than a decade, North Carolina is proposing to alter their regulatory policy to have their Medicaid program, once again, pay hospitals and doctors to perform infant circumcision.  State officials want to insert clever language into Regulation 1A-22 so routine infant circumcision under State Medicaid can resume for almost any reason. This is in violation of the intent of State law and unauthorized Medicaid expansion. North Carolina hospitals and clinics are in line to start profiting again from cutting baby boy's genitals.
Please watch this video for more information about this issue.
This is how State Medicaid officials and their hospital/doctor allies intend to get around the prohibition on Medicaid payments for routine infant circumcision.
Under the proposal, a doctor would be able to provide Medicaid circumcision for infants. The parents just have to express a need for "HIV prophylaxis," or be coached to say that.
So this is what could happen. A baby boy is born, doctor solicits the parents for circumcision for any reason, parents sign consent, hospital coder/biller enters HIV prophylaxis on the chart. Doctor/hospital gets paid by Medicaid.
By citing HIV prophylaxis it basically covers any excuse by parents or doctors to get Medicaid paid circumcisions in violation of the intent of State Medicaid law.
The whole thing is preposterous because babies are not at risk for sexually transmitted HIV.
For those that wish to read the entire public notice
TAKE ACTION
Steps you can take to oppose the changes to North Carolina Medicaid.
The form with suggested responses is linked below in Microsoft Word docx and txt.
The Health Equality Campaign is planning to hire a legislative lobbyist to represent us in the State. We also need a North Carolina public awareness campaign. We can't do it without your financial support.
Tell them you are outraged that hospitals and doctors are poised to profit from cosmetic genital mutilation, and NC taxpayers will foot the bill.
5. SHARE this page on your social media (Facebook – Twitter – IG – Redit)
We will deliver this petition to North Carolina Governor Roy Cooper and legislators of the General Assembly
I oppose North Carolina Medicaid's draft proposal to fund Routine Infant Circumcision ("RIC"), entitled "Necessary Circumcision Clinical Coverage Policy 1A-22." For over ten years, North Carolina declined to cover RIC, citing it as cosmetic and unnecessary.  RIC does not meet Medicaid's definition for medical necessity.
Medical experts have stated, "CIRCUMCISION fails to meet the commonly accepted criteria for the justification of preventive medical procedures in children … Circumcision of underage boys … has no compelling health benefits, causes pain, can have serious long-term consequences, constitutes a violation of the U.N. Declaration of the Rights of the Child, and conflicts with the Hippocratic oath: primum non nocere: First, do no harm."
Proposal 1A-22 will only serve to increase revenues for hospitals and doctors at the expense of the Medicaid program and the taxpayers of North Carolina. Furthermore it's the baby boys that must suffer from needless traumatic pain, loss of choice for an intact body, and loss of anatomically important erogenous tissue.  Circumcision payments were ended in 2009, but now medical industry advocates are attempting to relitigate the issue and revive this income stream once again.
The 1A-22 Proposal assumes the most positive assumptions on the benefits of circumcision, assumptions that are disputed by medical experts around the world. The proposal does not consider the risk and complications that arise from RIC. More often than not, it's Black, Brown, and Latino babies that suffer disproportionally from circumcision malpractice. Doctors will solicit or pressure Medicaid families into signing consent forms for circumcision on their sons, telling them it's "free."  Hospitals and clinics are inclined to rush the procedure or use poorly trained personnel to maximize revenues. When malpractice or disfigurements happen, medical staff downplay the consequences and tell the parents not to worry, it will heal. These children must often endure the rest of their lives with physical disfigurements and psychological harm.
Furthermore, the State did not perform any cost benefit analysis on circumcision. No analysis was done on what financial impact Proposal 1A-22 would have on the State Medicaid program. In addition to the billing charge for the procedure, other cost factors that must be included are complication rates, botches, malpractice, and circumcision revision surgery expenses, including cosmetic repairs, by pediatric urologists. The complete costs are vital to know in an era of our overburden medical system and state budgets already impacted by COVID-19 costs. Yet the 1A-22 Proposal did not seem to consider these things at all.
North Carolina Medicaid should not be pay for unnecessary, cosmetic, life altering surgery on babies. The changes contained in the proposed 1A-22 Policy should be rejected.
Please Sign The North Carolina Petition !
Writing your letter – Key Talking Points:
Circumcision does not meet the definition of "medical necessity."
Parental wishes or desires, often based on cosmetic reasons, do not meet the threshold of "medical necessity." Parents are not qualified to make scientific determinations or risk benefit analysis of circumcision.
Many foreign medical associations specifically do not recommend routine infant circumcision, including Canada.
The State has not provided any evidence that intact babies or young adults in North Carolina have had higher rates of HIV, STD's, penile cancer, or HPV over the past years since Medicaid circumcision payments have ceased in North Carolina.
The State has not performed a cost analysis for the reintroduction of coverage for circumcision.
The State has not reviewed any data on circumcision complications, malpractice, or revision surgery when evaluating the cost/benefit of Proposal 1A-22.
Claims that circumcision prevents HIV, STD's, UTI's, cancer, or HPV are either unproven, disputed by medical professionals around the world, or statistically insignificant. In the case of HPV there is widely used vaccine that renders that issue moot. Furthermore HIV infection rates have been declining significantly with the widespread use of Prep (Pre-Exposure Prophylaxis) for high risk groups or TasP (Treatment as Prevention) .
Reinstatement of Medicaid payments for circumcision has been advocated by those that derive income from medical practice, hospitals, or those with ties to the medical industry.
The issue is not about establishing parity or "health equity" between private insurance and Medicaid. It's about increasing insurance reimbursement rates of Medicaid relative to private insurance companies.
Black and Brown babies and Medicaid recipients are disproportionally affected by circumcision malpractice. These individuals are unable to live their life to the full extent and enjoyment that most of us do because of missing or damaged genitals caused by circumcision. They are left physically and psychologically damaged for life, all because of a needless surgery.
The draft Medicaid 1A-22 proposal does not meet a sufficient standard of care because it does not prohibit the use of the dangerous MOGEN circumcision clamp.