ABOUT US – PROMOTING FORESKIN
Intaction Inc. is a 501 (c)(3) organization and a registered corporation under the Not-For-Profit Laws of New York State.
Intaction P.O. Box 370599, Brooklyn, N.Y., 11237 USA
1-866-6-FORESKIN (866-636-7375)
About Intaction:
Intaction was formed in 2010 with private donations and volunteer assistance to promote the benefits of foreskin. We seek to achieve our goals through education, advocacy, and activism. We seek to empower our members by providing them a way to get actively involved in the cause of foreskin advocacy.  Our advocacy has generated significant attention for our core issues.
Our past events have included disruptive protests, parade participation, demonstrations, parental education events, and raising general awareness on the issues. We employ print media, social media, mobile outreach, and exhibiting at various public events to engage people with our ideas.
Mission Statement and Beliefs:
That every child has the inalienable right to an intact body. The foreskin is a special and unique part of the body that serves several important functions. We believe the foreskin possesses Four Powers : Pleasure, Protection, Lubrication, and Connection (between people and with oneself.) Both males and females are born with foreskin (equivalent to the clitoral hood). Even cut men were born with a foreskin. Therefore everyone has a stake in this issue.
Intaction promotes an intact positive message so people understand and value the anatomical and psychological importance of an intact body. We seek to raise awareness on this issue in order to stop non-therapeutic, ritualized, medicalized infant circumcision and female genital cutting.
We believe everyone is harmed by circumcision (genital cutting), including boys & girls, mothers & fathers, and doctors & nurses.
Circumcision harms babies due to the stress and trauma from genital cutting often done with little or no anesthesia.
Circumcision harms men due to the trauma, loss of body & genital autonomy, sexual dysfunction, psychological damage, and loss of anatomically functional erogenous tissue.
Circumcision affects women due to the loss of sexual function from themselves or from their partners.
Circumcision affects parents when they must endure the lifelong grief stemming from the realization of having harmed their child.
Circumcision affects doctors & medical staff because many are forced to perform this harmful act to babies against their conscience.
We seek to give those that feel they have been harmed by circumcision the ability to contribute to the cessation of this abhorrent practice. Together we can forge a path to a better world for future intact generations. All are welcome to join with us.
For those in the media that would like to know more about the story of Intaction, please request our press kit on our media page.
Intaction Board of Directors
Craig Adams
Aura Bobadilla, Hispanic coordinator
Jonathan Friedman
David Grant
William Kaye
Everett Leiter
Anthony Losquadro
Adam Zeldis
Australian Liaison
Michael Winnel,  (Brooklyn, NY & Sydney, AU)
Anthony Losquadro at the 15th International Symposium on Genital Autonomy and Children's Rights, San Francisco CA.
Anthony Losquadro is the founder and Director of Intaction. He founded the organization to counter the influence of the U.S. healthcare system that has a vested financial interest in the promotion of genital cutting. He also wanted to give children a voice over their body autonomy, and to raise awareness on the importance of an intact body. He says, "Once I understood what our society was doing to babies every hour of the day, and what was done to me, I realized this had to be stopped." The thought of torturously removing this important body part from innocent babies became reprehensible to him.
Anthony Losquadro has spoken before the Commonwealth of Massachusetts State Senate Joint Committee about proposed circumcision legislation.
Anthony lectured at the 15th International Symposium on Genital Autonomy and Children's Rights in San Francisco on May 7th 2018, and presented "Maximum Impact with the Foreskin Revolution."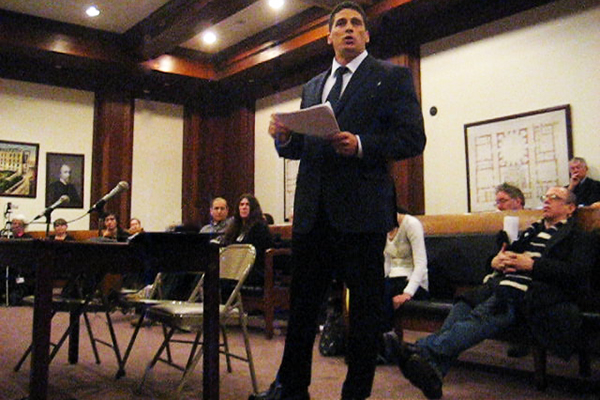 While advocacy is serious work, Anthony can also be found at parades getting into costume to raise awareness, and endeavors to make intactivism fun as well.
Acacia O'Connor writing in "She Knows Media – The Anti-Circumcision Movement Is Gaining Momentum" said: "Anthony is blue. No, he is literally blue. Nude except for a pair of speedo bathing trunks, Losquadro is getting his body painted for the 2018 Coney Island Mermaid Parade (to promote foreskin awareness.)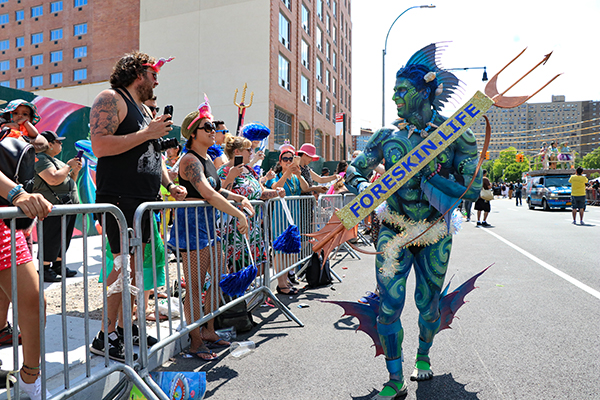 Anthony is regularly interviewed as an expert on the topic of circumcision many radio, TV shows, and podcasts coast to coast. In addition, Anthony has also been interviewed on the topic of circumcision by the Times-Picayune, NY Post, NY Post/Andrea Peyser, Vice Media, Fox News, BBC WorldService, KGO-810AM San Francisco, The Independent, FUSION Media, She Knows Media, L'Effet Papillon – CANAL+TV (France), Huffington Post, Village Voice, The Daily Beast, Salon.com, Vibe.com, Narrative.ly, El-Diario NY, El Periodico, News 7 Miami, News 23 Miami, Queens Times-Ledger, Broward Palm Beach Times, Popsugar/Babycenter.com.
He is also the host of the Circumcision Chronicles Uncut Podcast on YouTube and all major podcast outlets.
Anthony is a New York native, and a graduate of the U.S. Merchant Marine Academy. He was formerly a Merchant Marine/U.S. Naval Officer (Retired). In addition to this advocacy, he works in real estate management and affordable housing. He has served on various boards of directors for local, state, national trade organizations, and community groups.