JOIN THE FELLOWHOOD OF FORESKIN PROTECTORS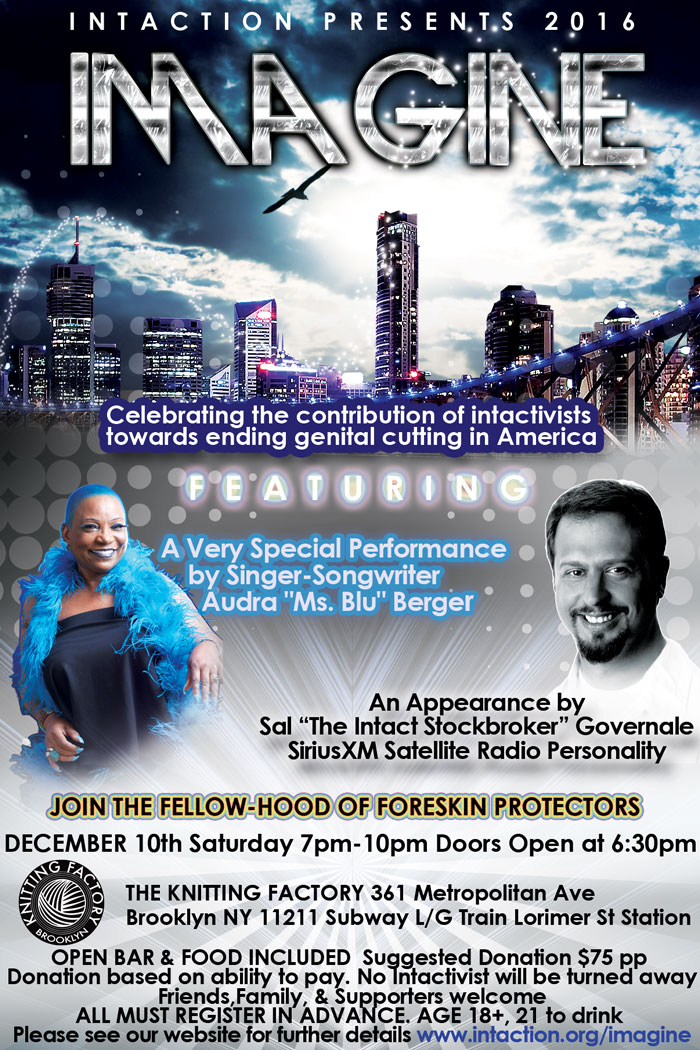 Imagine 2016, the world's first ever celebration for people that support foreskin protection, and those that want to learn more about it. This can't miss event will be an evening of fun, food, and entertainment. Some of the evenings highlights are:
A welcoming speech by Intaction Director Anthony Losquadro
An appearance by radio personality and comedian Sal "The Intact Stockbroker" from the Howard Stern Show. Meet Sal, get photos and signatures.
A soulful performance by the intactivist singer Audra "Ms Blu" Berger.
The debut intactivist raunchy comedy act of Tony "The Alarm Guy"
Meet our Guest of Honor and pioneer intactivist Marilyn Milos for a rare East Coast appearance.
Event to be recorded in part for replay on the Howard Stern Show and Kenny Neal Shults upcoming documentary "Pigs Without Blankets."
IMAGINE. It empowers us. It gives us hope. It inspires. Imagine a future where America doesn't support the barbaric practice of genital cutting. Look how far we've come, and let's IMAGINE achieving even greater future success.
This is an evening you will not want to miss. We have food, entertainment, open bar, and celebrity mentions. We will be in one of the hottest locations in NYC. Intactivist movement pioneer Marilyn Milos is flying in from the West Coast to be with us. The night will be captured on video for an upcoming documentary on genital cutting, the Alan Cumming inspired "PIGS WITHOUT BLANKETS. Not only will it be an exciting evening, but your presence will be part of supporting the foreskin protection movement. But despite all that, its still a causal affair so come as you are and have a good time while supporting genital integrity.
Also meet Sal "The Intact Stockbroker" from SiriusXM's Howard Stern Show.  A radio personality and comedian, Sal has been involved with countless on-air antics involving his foreskin. Howard Stern, an "on-air" intactivist, has repeatedly called out circumcision as "Genital Mutilation" and he has bashed genital cutting over the decades. We are big fans of Howard Stern and Sal !