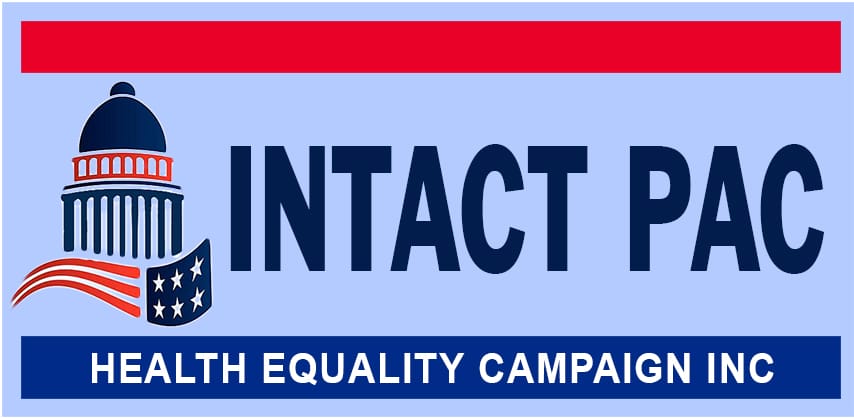 The Health Equality Campaign Inc., also called INTACT PAC, is the first ever lobbying organization designed to specifically support the intactivist movement. A "PAC" is an acronym for "Political Action Committee."
Established in June of 2020, and founded by Anthony Losquadro, INTACT PAC is the "lobbying" arm of  Intaction.  Federal law requires us to maintain a separately funded entity when we engage in lobbying and political activity.
INTACT PAC's efforts focus on reducing the harm and suffering of children from the practice of genital cutting by advocating in the legislative and political arenas. Over the last decade, Intaction has delivered successful results in the area of educational advocacy and raising public awareness. However institutionalized and ingrained genital cutting practices will persist unless public policy is reformed.
INTACT PAC seeks to enact reasonable change to reduce suffering and harm from all forms of genital cutting and modification for all children, including male, female, and intersex.
INTACT PAC seeks to protect children of Medicaid recipients from the unnecessary and traumatic practice of circumcision. Documented incidents have shown these children are more at risk for botches, malpractice, and complications from inadequately trained and supervised medical staff than their non-Medicaid counterparts. In additional, hospitals are more likely to rush the procedure and often neglect to offer pain relief. Studies have shown that Medicaid coverage of circumcision spreads harm to the disadvantaged.
With regards to infant male circumcision we also seek to :
Prohibit solicitation and pressuring of parents to circumcise
Prohibit use of dangerous medical devices
Require doctor adherence to mandatory analgesia policy
Ensure proper tracking of circumcision complications in the NYS- SPARCS database
Ensure hospitals provide a fully informed consent policy outlining all risks of circumcision
While achieving these goals, we can help parents make better choices, reduce Medicaid costs, protect children, and improve the health & well being of New York's residents.
INTACT PAC is dedicated to vigorous and effective legislative advocacy that will deliver results for our cause. Our initial focus is on New York State. We will deliver solid and smart messages to key decision makers in the public sector of New York State. We hope to branch out to other regions of the United States that offer strategic potential.
INTACT PAC will endeavor to influence New York State legislators, the Governor's office, and other levels of government as deemed necessary to support our healthcare equality and harm reduction legislative agenda. We believe we can lobby for incremental change to state policy, regulations, and laws to hasten the decline of circumcision rates.
INTACT PAC has retained Bolton St. Johns, one of the largest lobbying firms in New York, to represent us in Albany. Their task is to promote our agenda in the New York State legislature.
Our messaging will, at all times, be consistent with our mission – that every child has the inalienable right to an intact body. We will advocate against both male and female genital mutilation (circumcision) and gender assignment surgery on intersex children.
We will also promote an intact positive message so legislators understand and value the anatomical and psychological importance of an intact body.
Our primary goal is to reduce the suffering of children and provide our children with better health outcomes so they may start their lives with a full potential.
The Health Equality Campaign Inc (d/b/a INTACT PAC) is a registered 501 (c)4 non-profit organization. Donations are not tax deducible. The Health Equality Campaign Inc. is registered with the New York State Joint Commission on Public Ethics (JCOPE).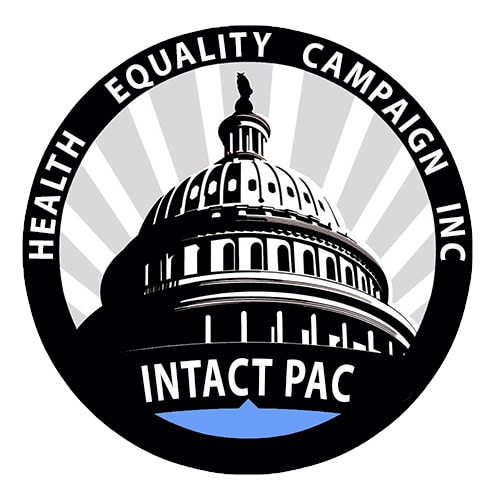 Monies donated to Intaction cannot be used by the Health Equality Campaign due to federal regulations. Please contribute directly to the Health Equality Campaign (INTACT PAC) by using the support button on this page.
Minimum support level $50 USD.
Health Equality Campaign Inc. d/b/a INTACTPAC. A 501 (c)(4) non-profit political action organization. The Health Equality Campaign Inc. is registered with the New York State Joint Commission on Public Ethics (JCOPE).
Directors:
David Grant
William Kaye
Anthony Losquadro