MILES FOR GENITAL INTEGRITY
Support the fight for genital integrity and increase the level of your advocacy to new heights.
Buy Miles for Genital Integrity.
Now anyone can utilize one of the most effective educational outreach platforms available simply by purchasing miles. You buy the miles, we do the driving, you advance the fight against genital mutilation.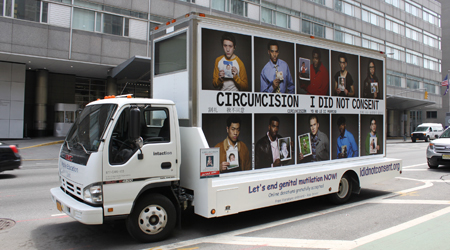 Its that simple.
After we receive your contribution, our Mobile Unit will schedule an excursion to a selected target location in the Tri-State (NY-NJ-CT) area. Typical destinations may include hospitals, college campuses, or high population density areas.  Educational sessions may include distribution of printed literature, 1 on 1 discussions, video and sound presentations, or "education on the go" mobile driving.
Miles for genital integrity can be purchased at $2.00 per mile, at the following levels
If you wish to donate via check or money order, please make your check payable to Intaction.org and send to:
Intaction.org P.O. Box 370599, Brooklyn, NY, 11237 USA
Your tax-deductible donation to Intaction.org will be used solely to fund our mobile education unit effort. No portion of the funds are used for any other purpose. All Intaction directors & committee members are unpaid volunteers.  All information submitted will not be shared or released to third parties. Intaction Inc. is a non-profit IRS 501(c)(3) charitable organization also registered with the NYS Attorney General's Office, Charities Bureau, registration number 42-76-34. You may obtain further information by writing to the State of New York, Office of the Attorney General, Charities Bureau, 120 Broadway, New York, NY, 10271